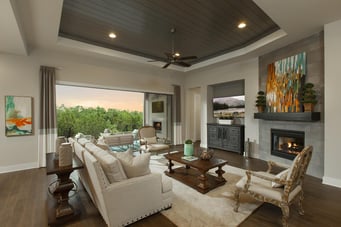 Coventry Homes Offers Buyers a Chance to "Beat the Heat" with a New Summer Promotion
July 1, 2020
Coventry Homes has a cool idea for toning down energy bills for Central Texas homebuyers — the return of their popular "Beat the Heat" sales event.
During Beat the Heat, July 1-Aug. 31, the builder will prepay two years' worth of electricity bills for people buying a Coventry home in communities throughout the Austin area.
"New homes are on average 30% more efficient than homes built just 10 years ago," said Alex Dadidakis, Central Texas division president for McGuyer Homebuilders, Inc. (MHI), parent company of Coventry Homes. "With more people working from home, electricity bills are only going to go up — unless you purchase a new Coventry home. Our energy-efficient homes will continue to offer savings even after the promotion period ends."
Coventry was the first builders in Central Texas to construct Eco Smart homes. Construction of these homes follow strict rules that result in energy-efficient designs that use fewer natural resources, less energy, less water and less waste.
Coventry goes above and beyond code requirements, Dadidakis said, saving buyers money and creating a healthier living environment.