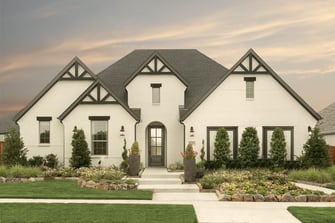 Coventry Homes Get Moving Promotion Returns
June 10, 2022
DALLAS, TX (June 10, 2022) – Dallas-Fort Worth homebuyers can move quickly and pay no closing costs thanks to the latest promotion from Coventry Homes.
During the Get Moving Sales Event, June 10 - July 31, buyers who use the builder's approved lenders and title company will pay no closing costs when they purchase a select inventory home from Coventry.
"In Texas, closing costs average 2 to 3 percent of your home's price ," said Rudy Pospisil, division president for Coventry Homes. "That's thousands of dollars, and it's due when you close on your home. We aim to get people moving without worrying about writing that big check."
Closing costs refer to a variety of expenses above the purchase price, such as fees for an attorney, a title search, title insurance, taxes, lender costs and some upfront housing expenses such as homeowner's insurance. These are separate from the down payment.
Coventry's incentive can also be used for a rate buydown or upfront mortgage insurance, if the buyer would prefer.
Approximately 50 completed or under-construction homes across the area are eligible for the promotion.
Coventry Homes currently builds in 24 Dallas-Fort Worth communities, including Viridian Island in Arlington, Sandbrock Ranch in Aubrey, Rockwood in Mansfield and Trailwood in Flower Mound. Homes are priced from the $390,000s to more than $1 million.