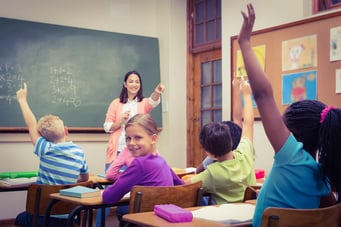 CCISD Education Village Earns An 'A'
October 30, 2020
Texas' first Education Village continues to prove that combining elementary, intermediate and high schools on one campus results in excellent outcomes for students, with all three Clear Creek ISD schools earning an A in the most recent Niche.com list of the 2021 Best Public Schools in the Nation.
Each year, the online research service releases rankings of top K-12 schools, colleges, places to live and places to work as well as top school districts. School rankings are based on state test scores, graduation rates, diversity and quality of school administration. Schools and districts are given A-F grades.
Clear Cleek ISD received an A as well as ranking among the top 50 Best School Districts in Texas. The district was No. 44 out of 1,019 districts. Clear Creek also placed at No. 5 on a list of the Best School Districts in Houston.
Scores for each district were based upon data collected in eight categories. The grade for academics — based on state testing performance, SAT/ACT scores and survey responses from students and parents — carried the most weight in the evaluation, counting toward 50 percent of each district's grade.
School rankings are based on state test scores, graduation rates, diversity and quality of school administration. The data is compiled from public sources such as the Department of Education, U.S. Census and Common Core as well as parent surveys.
Coastal Point students attend schools in the Education Village, a $116 million, 144-acre campus that brings together a comprehensive high school, intermediate school and elementary school on a single site. The K-12 campus includes shared and multi-use facilities that have been created with learners in mind.
Sandra Mossman Elementary earned an A. The school was also rated among the top 20 Best Public Elementary Schools and the 2021 Public Elementary Schools with the Best Teachers in Galveston County. Mossman is no stranger to top grades. The school boasts an A from the Texas Education Agency with a distinction in comparative academic growth.
Bayside Intermediate earned an A-. The school's offering of traditional and advanced coursework for students — with electives in the area of fine arts, athletics and foreign language — places it among the top 100 Best Public Middle Schools in Houston, according to Niche.
Clear Falls High School garnered an A for its stellar academics, college prep classes —including AP and honors classes — and the diversity of its student body. Niche ranked Clear Falls among the top 50 Best College Prep Public High Schools in Houston and No. 4 among the Best Public High Schools for STEM in Galveston County. Clear Falls High School also recently received a College Success Award acknowledging its efforts to encourage students to enroll and stay in college. Only 21 percent of eligible public high schools across 29 states received this honor.
We congratulate all students, faculty and staff for doing such an excellent job training our children.
This blog post originally appeared on the Coastal Point community website: https://coastalpointtx.com/ccisd-education-village-earns-an-a/