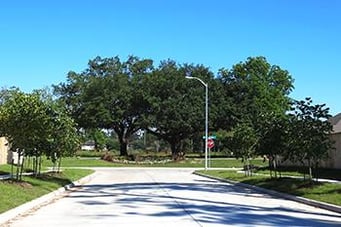 Coventry Homes Continues Tree Preservation Tradition
June 13, 2019
At a time when communities are fighting to keep developers from removing trees, MHI Partnership, Ltd. d/b/a Coventry Homes continues with its long-standing tradition to save them as it continues development in Enclave at Longwood and other community projects.
Coventry Homes has been active in the Cypress community for many years, but a planned expansion of the Enclave at Longwood development threatened three of the community's oldest residents — two 75-year-old oak trees and a 30-year-old pecan tree.
Rather than cut down the trees, the eco-conscious builder — which is also developing Enclave at Longwood — spent in excess of $15,000 to help preserve them.
"Longwood is an established 25-year-old community, and we are developing and building in the middle of it. To help the Enclave maintain the character of the original community, we needed to find a way to keep the trees. More than that, it was the right thing to do" said Paul Blackburn, Region President with Coventry Homes.
Coventry Homes worked in concert with ­­an arborist with 35 years of experience to create a conservation plan. Low hanging and dead tree limbs were removed as were vines and scrub brush to maintain the health of the trees.
To prevent damage, the roots were pruned where needed and deep fed before and after construction. No heavy equipment was allowed within the tree canopy, which was fenced off during construction. A barrier between the roadway construction and the trees protected the roots.
"These beautiful trees are now an inviting centerpiece for both the new neighborhood and a future section that will feature walking paths and playground equipment," Blackburn said. "This project serves as an example of our building and development standards. We've built more than 50,000 homes since 1988 and are still continuing to save trees to enhance our buyers' lifestyle."
Home Sales have just begun in the new section of the Enclave at Longwood, which complements the existing section of the community. Homes are priced from the $350,000's.
Residents of Enclave at Longwood enjoy access to established, on-site amenities such as a recreation center, playground, pool, tennis courts, and greenbelt spaces.
For more information, visit www.coventryhomes.com.