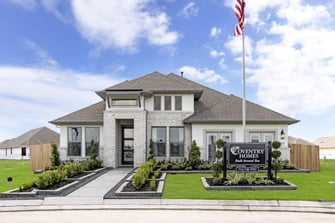 Pay No Closing Costs to Live in Mandola Farms
November 23, 2021
If you are ready to make the move to a new Coventry home in Mandola Farms, have we got a deal for you. Purchase a new home before the end of the year and move without paying closing costs.
During our Get Moving Sales Event, Nov. 20- Dec. 31, if you use one of our approved lenders you will pay no closing costs.
What are closing costs? We're glad you asked. Closing costs include a variety of expenses above the purchase price of a home such as fees for an attorney, a title search, title insurance, taxes, lender costs, and some upfront housing expenses such as homeowners insurance. Those fees can average 2 to 5 percent of the purchase price of your home.
How much money will our promotion save you? Homes in Mandola Farms are priced from the $330,000s. Your closing costs could range from $8,500 to $13,500. That's a huge chunk of change!
What can you do with the money you save? Purchase a new television for your media room. Maybe a new dining room set so you can host holiday dinners in style. You could save that money for a rainy day. The choice is yours.
Our homes can save you money in other ways, too, as the homes are built to stringent Environments for Living guidelines ensuring a healthier, "greener" home that saves buyers money on heating and cooling costs.
We offer 14 flexible floor plans in Mandola Farms. Designs range from 1,752 to 3,406 square feet and feature island kitchens, studies, game rooms, covered patios and more. Available options include Texas-sized patios, outdoor kitchens, playrooms, media rooms, additional bedrooms, garage extensions, and bonus rooms.
You not only get a great home, but you also get a great community. Mandola Farms will soon boast winding trails, an open-air pavilion with a view of the community pond, a splash pad, and a playground.
Mandola Farms features a prime location on the south side of U.S. 90 near the Grand Parkway in Richmond allowing for easy access to employment centers, as well as shopping and dining in Historic Downtown Richmond or at Brazos Town Center. Children receive an excellent education at Lamar Consolidated ISD schools.
Visit our model home in Mandola Farms today to learn more.