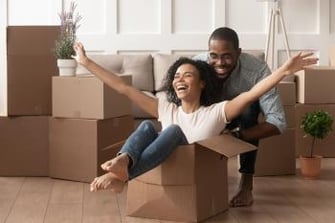 10 Benefits of Homeownership
January 18, 2023
Buying a home is one of the biggest decisions you will ever make. It is also one of the best. There are many financial and social benefits to owning your own home. Take a look at the top 10 reasons for buying a home and then visit a Coventry Homes model in your preferred community to reap the rewards.
You Control Your Monthly Payments
When you rent, your landlord controls your monthly payment. Your rent will probably go up year after year. When you own your home, you control the monthly payments. If you opt for a 15- or 30-year fixed interest rate loan, your monthly payments will not change. If interest rates drop, you can refinance to lower your mortgage payments.
You Are the Landlord
When it comes to making changes to your home, you won't have to ask for a landlord's permission. Want to paint the walls sea foam green? Go for it. Need to repair the fence? You won't have to wait for the landlord to get around to it. You also won't have to pay a pet deposit or worry if your toddler decides to scribble on the walls. Even better if you purchase a new Coventry home where you can make your own design choices.
There are Tax Benefits
Owning your own home comes with several tax benefits you don't realize when you rent. Home mortgage interest is tax deductible, which could mean a reduction in your federal taxes. There may also be a property tax deduction depending on where you live.
You'll Build Equity
Most people know that home ownership builds equity but what exactly is that? Equity is the difference between your home's value and your remaining loan balance. This is important because home equity can be converted to cash. There are no restrictions on what that cash can be used for.
You'll Build Credit
Pay your monthly mortgage on time and you will raise your credit score. That's important as the higher your score is, the easier it will be to refinance your home at a lower interest rate in the future. Doesn't making your rental payments on time build your credit score? Not necessarily. Many landlords don't report rent to credit bureaus. That means paying the rent on time might not improve your credit rating. Of course, if you break your lease or get behind on rent, your landlord may put your account into collections which will hurt your credit score.
Your Home Will Rise in Value
The longer you own your home, the more it will be worth. This is called appreciation. Most homes appreciate over time. That means when you sell your home you will be able to pay off your loan and have the money you need for a down payment on another home. It also helps you with refinancing.
You'll Build Your Net Worth
Homes are considered an asset in part because you build equity, and a home appreciates in value. This builds your net worth. You can convert your equity for cash, sell your home for more than you paid for it or simply list it as an asset when you are trying to get a loan.
Your Children Will Benefit
Owning your own home gives your family a sense of security as you won't be moving as often. A Redfin analysis of historical county records in 2021 found that the average owner will stay in their home for at least 13.2 years. Children benefit from stability educationally and socially — educationally because they aren't moving from school to school and socially because they aren't faced with constantly making new friends.
You'll Be Healthier
There are health benefits to owning your own home. If you have water damage leading to mold in an older home, your homeowner's insurance will most likely take care of it. If you are renting it may take longer for a landlord to get it fixed. You can install a water purifier, replace drafty windows, and fix your HVAC. Most new construction homes use better building materials, so your home is healthier.
You'll Belong to a Community
Homeowners get to know the people in their neighborhood. They wave to each other as they walk their dogs. Children make lifelong friends. There are block parties and neighborhood watches. If you live in a master-planned community, you can be involved with the HOA. That makes you part of a community which is something renters often miss out on.