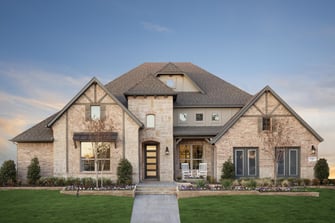 Coventry Homes Retains LEED Power Builder Status
July 20, 2021
The Austin and Dallas-Fort Worth divisions of McGuyer Homebuilders, Inc., (MHI) are among 12 builders nationwide named LEED Homes Power Builders for 2021.
The designation recognizes builders and developers who have exhibited an outstanding commitment to residential green building and LEED (Leadership in Energy and Environmental Design) for Homes, a worldwide green and sustainability program. To qualify, companies must have LEED-certified at least 75 percent of their homes built in 2020.
The Dallas division has earned LEED Homes Power Builder status each year since 2015. This is the third consecutive year for the Austin division to be named a LEED Homes Power Builder. The division has earned the designation five out of the last six years.
Rudy Pospisil, division president for MHI Dallas, said homes in Dallas have been built to LEED standards since 2010, regardless of price.
"When we started, it was more common to see homes priced closer to $1 million or above meeting the stringent guidelines of LEED certification," Pospisil said. "But it was important to us to build homes as efficiently as possible. Now our customers are benefiting from our years of experience doing just that."
The Austin division of MHI has built homes within the LEED program since 2012.
"We recognized early on the benefits of green building practices and in 2012 became the first and only production builder in the Austin area to follow LEED guidelines," said Alex Dadidakis, Central Texas region president for MHI. "Our homes are energy- and resource-efficient, something that is better for our home owners and the overall environment."
A program of the Green Building Council, LEED for Homes certification has strenuous mandates including measures for water conservation, indoor air quality, energy efficiency that exceeds local codes by at least 15 percent, use of environmentally preferable products, minimal construction waste and ground protection during the construction process. Each home is performance-tested and third-party verified.
McGuyer Homebuilders, Inc., is the parent company of Coventry Homes, which builds in more than 80 communities in the Austin, Dallas-Fort Worth, Houston and San Antonio regions.
To learn more about Coventry Homes visit www.coventryhomes.com.