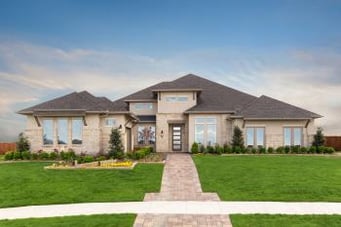 MHI Marks 30 Years of Exceptional Growth
November 28, 2018
An understanding that homebuilding is at heart a "people business" has been the catalyst for success for McGuyer Homebuilders, Inc. (MHI), which is now celebrating 30 years.
Launched in December 1988 by Frank McGuyer, the real estate veteran found quick success in the Houston market, delivering 100 homes in 1989, the first full year of operations. McGuyer launched not one, but two homebuilding brands — Plantation Homes with plans designed with first-time and second-time buyers in mind and Coventry Homes, which offers sophisticated homes for the move-up buyer.
"Coming off of the oil bust just a few years earlier and then launching in the midst of the savings and loan crisis was intimidating," said McGuyer, MHI Chairman and Chief Executive Officer. "But we listened to our buyers and responded quickly to their needs."
And the market responded in kind, with MHI venturing into the Dallas-Fort Worth and Austin markets in 1992. A move into the San Antonio market followed a year later. That same year, MHI closed on 1,163 homes. Five years later, the company closed on its 10,000th home.
By 2004, MHI brands were building more than 3,000 homes a year and has been on the prestigious Builder 100 list, a ranking of the nation's top builders, every year since 1997.
"We grew with the Texas housing market," said Gary Tesch, MHI President, "while continuing to remain a company with strong local roots, which is something that allows us to be quickly adaptable to market conditions and buyer needs."
The company introduced its Build on Your Lot program in 2011, giving property owners the chance to contract with a large, reputable builder outside of a master-planned community setting.
"There are a lot of advantages in working with a volume builder, namely pricing," Tesch said. "In addition, Build on Your Lot buyers have access to our huge plan library and the ability to customize that plan to create the home of their dreams. They will have access to subcontractors who share our expertise and comfort in knowing that we will be here throughout the build and for years afterward."
Also in 2011, the company grew again, adding Wilshire Homes to its portfolio.
"We were already building in San Antonio and Austin, but we didn't have the exposure of Wilshire Homes," Tesch said. "The acquisition was a catalyst for our growth in Central Texas. Due to Wilshire being based in Austin, we were able to benefit from the strong relationships already formed with local developers and land owners, which helped us get into even more communities." In 2015, MHI was named Austin's Builder of the Year by the Austin Business Journal and received the award again in 2016, an unprecedented honor in a highly competitive market.
Other milestones for MHI has been introducing its Eco Smart program — an initiative for higher-performance, lower-energy homes that can flex to market needs. And as the company has put customer care at the forefront, it also has shown care for the broader community by helping build homes for Habitat for Humanity, participating in the HomeAid Houston Project Playhouse effort and — most recently — partnering for a third time with Operation FINALLY HOME by building a mortgage-free home for a U.S. veteran. In 2015, MHI was named Humanitarian of the Year in the Greater Houston Builder Association's Houston's Best PRISM Awards.
To date, the family of brands has built more than 50,000 homes for Texas families. MHI is currently ranked as the 11th largest private homebuilder in the nation and has earned spots on prestigious lists detailing the nation's top-selling builders, securing the No. 30 spot with Professional Builder Magazine and the No. 34 on Builder Magazine's Builder 100 list.
"Texas has been the strongest housing market in the country for the past decade. We expect that to continue for the foreseeable future with all the new jobs being created." Tesch said. "Based on our positioning throughout the state, we feel MHI is ready to continue to help Texas families achieve their American Dream of owning a new home."
To meet the demands of the growing market, MHI is building in more than 100 of the state's top communities. Plantation Homes builds in 31 communities in Dallas-Fort Worth and Houston. Wilshire Homes can be found in 19 communities in Austin and San Antonio. Coventry Homes builds in all four markets and can be found in 52 communities.
For more information on what MHI offers in Texas, visit www.plantationhomes.com, www.coventryhomes.com, and www.wilshire-homes.com.