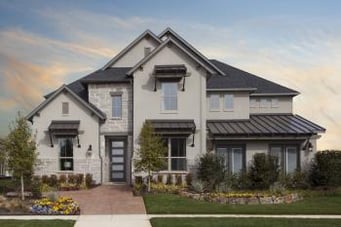 MHI Moves Up Among Nation's Top Builders
June 6, 2019
McGuyer Homebuilders, Inc., (MHI) — which encompasses Coventry Homes, Plantation Homes and Wilshire Homes — has moved up on two recently released rankings of the nation's largest homebuilders.
The company climbed to No. 33 on Builder magazine's 2019 Builder 100 ranking of the nation's largest homebuilders, based on 2018 home closings. It placed at No. 34 in 2018 and has been listed among the top 100 builders since 1997.
Professional Builder magazine has MHI at No. 29 on its 2019 Housing Giants list, a compilation based on revenue from the previous year. It was ranked No. 30 last year.
The privately-held, Texas-based company sold 1,721 homes last year with gross revenue of more than $750 million — all in just four Texas markets.
"Many of the builders included on these lists sell across the nation, not just in one state," said Gary Tesch, MHI Chief Executive Officer. "For us to consistently maintain such a high ranking selling just in Texas among these national powerhouses shows the strength behind our exceptional product design and building in all the top growth areas within the state."
Founded in 1988, MHI continues to evolve, Tesch said, staying on the forefront of building technology and smart home conveniences. Its Eco Smart program focuses on delivering high-performance, lower-energy homes that can flex to market needs and meets many of the industry's highest building standards.
Last year, MHI added a smart home package to its list of standard features. Powered by Control4, the standard package includes a Control4 CA-1 comfort and automation controller, an Ecobee Smart Thermostat with Alexa voice control, exterior and back door lighting, a Kwikset front door lock, Echo Dot, Control4 smart light switches and a Ring video doorbell. All homes are pre-wired for a wireless access point and feature a 30-inch Wi-Fi compatible component enclosure.
"We carefully track the features our buyers want most and work to build that in to the design and functionality of our homes," Tesch said.
The company also is known for flexible home designs, with company architects able to easily make structural changes to better accommodate buyers' needs.
"It's one reason why we have so many repeat buyers," Tesch said. "Our homeowners can get a custom experience without the custom home price tag."
Coventry Homes, Plantation Homes and Wilshire Homes can be found in top-ranked master-planned communities throughout Texas. Coventry Homes builds in Austin, Dallas-Fort Worth, Houston and San Antonio with homes priced from the $280,000s to the $600,000s. Designs priced from $190,000s to the $500,000s by Plantation Homes are offered in Dallas-Fort Worth and Houston. Wilshire Homes offers homes from the $230,000s to $400,000s in Austin and San Antonio.
Learn more at www.mcguyerhomebuilders.com.