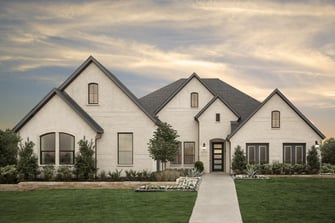 MHI Ranks No. 33 on Builder 100 List; Opens 19 Model Homes Through May
June 11, 2020
McGuyer Homebuilders, Inc., (MHI) — ranked No. 33 in the recently released Builder 100 list — continues to expand, opening 19 model homes across four major Texas markets since the start of the year.
More than half of those have opened since the COVID-19 coronavirus took hold in the United States.
"While there are some reports of builders contracting, sales slowing and inventory home production dwindling, we have continued to move forward throughout the crisis," said MHI Chief Executive Officer Gary Tesch. "We have a tremendous operations team and great vendor and trade partners that have managed their way through this."
Year-to-date, MHI has sold nearly 1,000 homes under its brands of Coventry Homes, Plantation Homes and Wilshire Homes. More than 400 inventory homes are complete or under construction.
The builder has seen the most activity in Houston, where it opened 10 model homes from January through May. Coventry Homes opened six model homes, starting with a new model in Veranda in January and a model home in Cane Island and in Sienna during March. The builder opened a model home in Grand Central Park in April and two models in May, one each at The Meadows at Imperial Oaks and Dellrose.
Plantation Homes opened four Houston-area model homes — one in Grove Landing in February, two in The Meadows at Imperial Oaks in March and April, and the fourth in Meridiana in April.
Coventry Homes was also busy in the Austin area, expanding its building program and opening five new models in four communities. The builder opened a new model in Tessera on Lake Travis and Wolf Ranch in January and in Spicewood Trails during February. Coventry Homes debuted two new models in 6 Creeks, one in February and one in April.
In San Antonio, Coventry Homes opened three new model homes. In February, it opened a new model in Arbors at Fair Oaks Ranch, while in March, Coventry opened its Gruene Haven model. The Coventry Homes' Legend Point model was opened in May.
Coventry Homes also opened a new model in February at Waterbrook in the Dallas-Fort Worth area.
"In addition to the new model home openings, we've also moved into new sections of neighborhoods we already build in," Tesch said.
He also said certain trends have been emerging during the pandemic as people have continued to purchase homes.
"During the last few months, we have seen a sharp rise in the demand for our flexible floor plans and specifically our home offices," Tesch said. With parents working remotely and children not at school, parents need a space where they can work with less interruptions. Our semi-custom home office plans have proven to be very hot seller."
Builder Magazine has ranked MHI among the nation's top 100 builders since 1997. The company — which was founded in 1988 — closed on 1,789 homes in 2019.