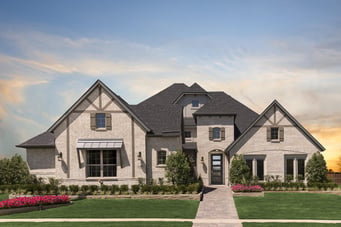 USGBC Names Coventry Homes Divisions LEED Homes Power Builders
September 1, 2020
The U.S. Green Building Council (USGBC) has named the Austin and Dallas-Fort Worth divisions of Coventry Homes LEED Homes Power Builders for 2020.
The designation recognizes builders and developers who have exhibited an outstanding commitment to LEED (Leadership in Energy and Environmental Design) and residential green building. To qualify, companies must have LEED-certified at least 75 percent of their homes built in 2019.
Coventry Homes has been building to LEED standards in Austin since 2012 and Dallas-Fort Worth since 2010.
"We were the first and only production builder in the Austin and D-FW areas to follow LEED guidelines," said Alex Dadidakis, Central Texas division president of Coventry Homes. "We recognized early on that green building practices benefit both the environment and our customers. Our homes are cleaner, healthier, they save homeowners money on cooling and heating bills and they have a higher resale value."
Rudy Pospisil, division president for Coventry Homes in Dallas-Fort Worth said that more and more customers are interested in purchasing LEED-certified homes.
"Today's homebuyers are very knowledgeable about green building practices," he said. "They want a sustainably built home and they appreciate the number of independent, third-party experts that verify their home is built to the stringent standards of the LEED for Homes program."
Created in 2008, the LEED for Homes rating system is a way for single- and multi-family homes to achieve certification. Qualifying projects undergo a rigorous process to become certified including multiple on-site inspections and diagnostic tests. Building mandates include measures for water conservation, indoor air quality, energy efficiency that exceeds local codes by at least 15 percent, use of environmentally preferable products, minimal construction waste and ground protection during the construction process.
Coventry Homes is considered one of the nation's largest homebuilders. The company also builds in Houston and San Antonio.