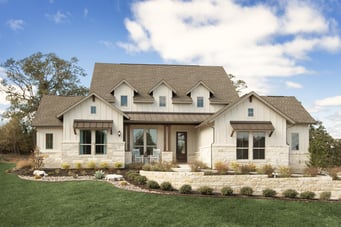 Why You Should Build A New House in a Strong Market
July 30, 2020
Are you thinking about entering the housing market? Right now, with low mortgage rates available, people are turning to building the ideal home that better suits their family's changing needs. Here are a few reasons why now is the time to build your new home.
The National Existing Home Inventory is Shrinking
There are fewer houses for sale in the U.S. right now, which means competition is fiercer. June housing data shows the inventory of newly listed properties has declined 19.3% over the last year. And this number continues to dwindle as the months go on.
What this means for home buyers – or people deciding between buying or building – is that they should expect to pay more for existing homes right now. According to the same housing data, the median listing price in June was $342,000, which is 5.1% higher than the previous year. Housing prices continue to rise as inventory shrinks. But there's another factor that makes building a home much more attractive right now… and that's low mortgage rates enticing buyers to enter the market.
Low Mortgage Rates Are Bringing More Buyers into the Market
In July, according to the Mortgage Banker Association's latest data, the 30-year fixed-rate mortgage rate fell to a record low of 3.26%. And predictably, home loan applications surged in the first week of July. More people are able to secure low-rate mortgage loans and enter the market, which further exacerbates the dwindling house inventory and skyrocketing home prices.
If you're on the fence about building or buying a home right now, consider what the process of buying a house in this market might be like. Buyers turning to new construction homes is happening more than you might think right now.
Builds Are Increasing Across the U.S.
More Americans are working from home right now than ever. Some companies are transitioning their workers to the office in shifts, with people working just a few days a week in the office. Others are scrapping in-office work entirely in favor of telecommuting for the foreseeable future. If you've found yourself thinking about your home as a place for your family and your business, you're not alone.
Housing production is growing. The U.S. Department of Housing and Urban Development and the Commerce Department reports that in June, housing starts increased by 8.3% nationwide. Single-family home builds increased by 6.3% -- its second-highest rate of the year. In addition to concerns about housing prices and smaller inventories, people are opting to build because they are investing in their future.
There are a lot of reasons to choose to build rather than buy resale right now. If you're looking to make the switch to a new home, take the time to figure out what your family needs. Building your house allows you to create spaces that are perfectly suited to your needs, whether it's a floor plan made for entertaining or a quiet home office. Whatever you need, your newly built home can provide. Historically low-interest rates may help your dream of building a new home be more attainable.