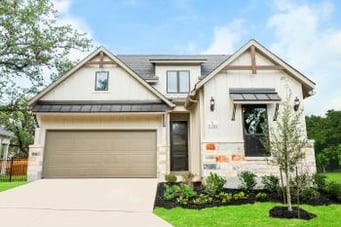 Your Coventry Home, Your Way: The Sante House
September 15, 2020
Designing the Sante House
Coventry Homes is known for its flexible designs and wealth of choices available at our design center, all of which allow you to build and design a home perfectly suited to your style and life. Selecting a floor plan is the first step. Then, the structural and design options are in your hands, and the possibilities are virtually endless!
Dr. James Agtuca recently closed on his Coventry home, coined as Sante House, in San Antonio. Read below to learn more about his experience building with Coventry Homes or click here to take a 360° tour of his home.
What were the deciding factors in choosing Coventry Homes?
Three factors made choosing Coventry an easy decision – their solid track record of crafting luxury builds, the attention to detail shown by all team members, and — most importantly — the way everyone shared my design vision, made it come to life, and then some. Down the road, I would choose Coventry again in a heartbeat.
What were your reasons for selecting your floor plan, the Alice (1659 Plan)?
What I enjoy about the Alice is how the home feels larger than square footage indicates. This is achieved by the number of "sight lines" the floor plan has, not to mention super-high ceilings used throughout. Whether looking from the foyer all the way to the dining room chandelier through the home's entry hall, or looking from the center of the kitchen all the way to the backyard's legacy tree through the home's sliding wall, the Alice employs large dimensions, yet features clever angles. For a modest one-story, Sante House packs a punch; the views don't hit you all at once — that would be boring — instead, you find yourself exploring the layout a bit and having fun doing it.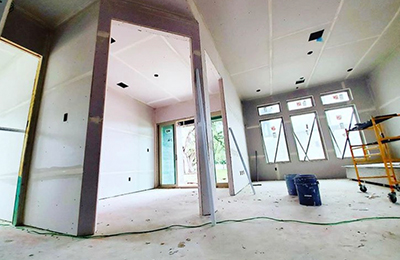 What structural changes did you make to your selected floor plan?
To expand the Alice's foyer both visually and in feel, I replaced a storage closet with ceiling-height open shelves, a high-grade granite countertop, and an in-cabinet beverage refrigerator — a feature I've termed "pocket library" to welcome guests. Similarly, I added a dedicated "refreshments nook" to the dining room featuring custom wine cabinetry and matching granite. To take advantage of the lot's views and natural daylight, I replaced the entire exterior dining room wall with a full-width sliding door, as well as added four transom windows above the kitchen's nearly 17-foot wall of custom cabinets. The kitchen now technically features dual islands; a standard 7-footer that accommodates guest seating, and an additional 4-footer — acting as a built-in buffet/server — that I positioned strategically between the home's dining and great rooms. What I love about this built-in island is that it — along with the dining room's chandelier — serve as a visual focal point for anyone entering the home, especially with the entry hall's 7-foot wainscoting effectively "framing the shot" perfectly. A home should make its guests smile, and Sante House does just that.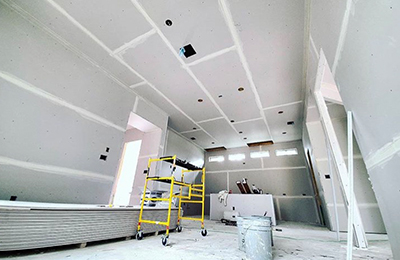 How would you describe your style?
"Mid-Scandinavian Transitional" is how I view my style preferences and approach to design. Common to all of Mid-Century Modern, Scandinavian and Transitional styles is the emphasis on uncluttered and sleek lines, and this is what drew me to the Alice. I saw huge potential in its floor plan alone. While I love each of the three styles mentioned, I tire easily if any one is used exclusively or — even worse — predictably. Because of this, I opt to meld every favorite aspect into a single, cohesive design, while allowing for some "doses of extra" to steal the spotlight in careful instances (e.g. ceiling paneling, crown molding, Moroccan tiles, specialty wallpaper, etc.) In my opinion, a design should always aim to include at least three elements of surprise, whether achieved by contrasting materials, unexpected features, or unique architectural nuances. Also, it never hurts to include what I call a "now element" or two… something that everyone is currently head over heels about — an industrial-grade kitchen, for example, or modern farmhouse touches, or hybrid indoor-outdoor spaces utilizing multi-slide doors.
What is the most unusual design feature you incorporated into your new home?
I added a 5×40 side patio extension, not only to bridge the main outdoor entertaining area with my home office, but also to allow for guests a wide, open-air, and landscaped walkway to take in morning air or afternoon sunsets. Later, this can easily be classed up into a semi-covered terrace or an "interpretive loggia" that would lead guests to a contemporary pergola.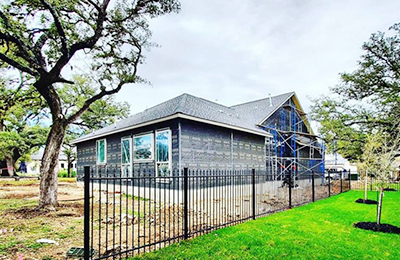 What three changes best personify your style/lifestyle?
In my opinion, the single most dramatic change that transforms a room is dressing up its walls and/or ceilings, so wall millwork such as modern wainscoting and ceiling treatments like crown molding or wallpaper are a must in Sante House. Another change that impacts interior presence is hardware, and for this home in which "farmhouse-inspired urban cottage" is the goal, I employ cool metal fixtures (e.g. nickel door levers, aluminum cabinet pulls, stainless steel appliances) that will ultimately interplay with doses of matte black accessories for added masculinity and warm gold furniture accents for tailored luxury. One last change that awakens any space is structurally maximizing natural sunlight (and moonlight!) in its design. This explains why additional windows and glass doors are found throughout Sante House, including the 10-foot sliding door in the home's dining room. With every opportunity, I try to bring the outdoors in.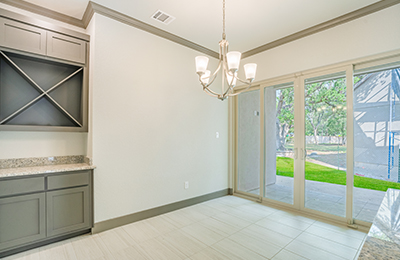 What do you think will have your friends saying, "Wow!" when they walk in the door?
Friends will either love the wood ceiling paneling and wainscoting in the entry area, or the guest bath — I paired black-and-white Moroccan tile flooring with a vertically laid subway tile shower surround — or the customization of all cabinetry (e.g. two-tone finish, glass inserts, open shelving). The home's reveal will be a blast.
What are you most excited about?
Believe it or not, I am most excited about the home's dining room and outdoor entertaining area. It has nice views of the great room and kitchen, and — most importantly — looks directly onto a large yard with mature trees and maintained landscaping. I have seen how that part of the home looks during "golden hour" so I've been counting down until I can fully open up the room's sliding wall and entertain dinner guests both inside and out.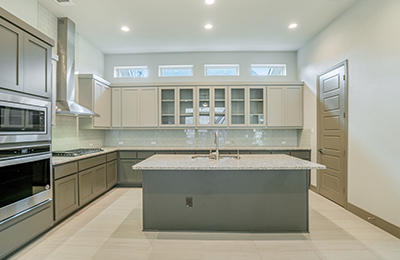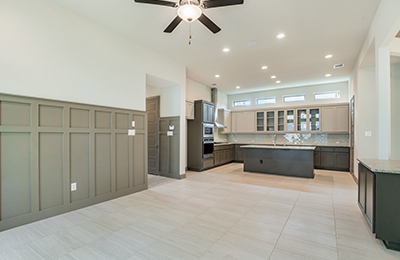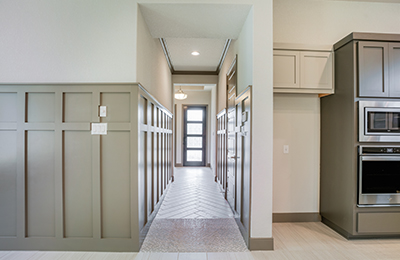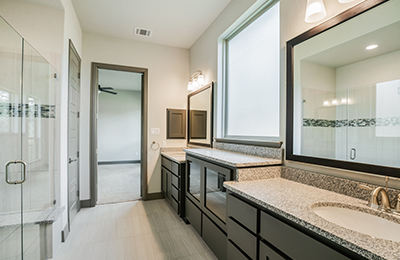 Are you ready to build and design your dream home with Coventry Homes? Contact a representative today!