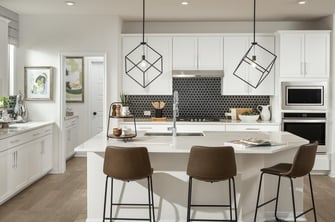 Enjoy Savings in San Antonio January 20 Through March 31
January 20, 2023
Considering hitting the pause button on your dreams of owning a new Coventry home because of rising interest rates or closing costs? Don't. Coventry Homes is offering you a choice of three different ways to save on the cost of purchasing your new home.
During the Buyers Choice Sales Event, January 20 through March 31, San Antonio-area buyers who use the builder's preferred lender can choose from three money-saving options — an interest rate buy down, an extended interest rate lock or no closing costs —when they purchase a new Coventry home.
How will one of these options help you save? Let us break it down for you.
Closing costs refer to a variety of expenses above the purchase price, such as fees for a title search, title insurance, property taxes, lender costs and some upfront housing expenses like homeowner's insurance. They do not include the down payment. They are due when you sign the final paperwork and receive the keys to your new home.
In Texas, closing costs average 2 to 3 percent of the cost of a home. For a $400,000 home, closing costs can run from $8,000 to $12,000. Ouch! With our latest promotion, you can choose not to write that big check; we can help pay most of those costs for you.
If rising interest rates are your main concern, an interest rate buy down or extended interest rate lock can be very beneficial.
An interest rate buy down allows you to pay a little extra money known as "points" upfront to get a lower interest rate. The benefits are that you will save money on your monthly payment, you'll pay less interest over the life of your loan, and you might qualify for a higher mortgage because your interest rate will be lower.
Locking an interest rate means your interest rate won't change between the time you sign your contract and closing. Think of it as an insurance policy. If rates rise before you close, you won't be on the hook for them. However, if your home is being built, you may need more time to lock the interest rate. We can help you with those costs with our extended interest rate lock.
Any way you slice it, you will pay less at closing and in some cases, over the life of your home loan. Think about what you can do with the money you save!
Coventry Homes builds in 11 gorgeous communities in the San Antonio area. Visit one and talk to our sales representative to get started on fulfilling your new home dreams today.